Hyundai Sonata: ESP(Electronic Stability Program) System / Steering Angle Sensor Description and Operation
Steering Wheel Angle Sensor detects rotating direction of the vehicle. Rotating direction detected by the sensor is communicated with HECU as CAN signal involving information about the angle through CAN communication line.
HECU detects speed of the steering wheel handling and the angle with this CAN signal. HECU also uses this signal as the input signal to control anti-roll.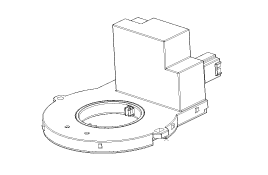 Specification Service Standard DescriptionSpecificationOperating voltage8 ~ 16VOperating temperature-40 ~ 85°C(-40 ~ 185°F)Current consumptionMax.150mAMeasuring rangeAngle-780 ~ 779.9°Angula ...
Schematic diagram [EPB Type] [General Type] ...
© 2018-2023 www.hsonatalf.org