Hyundai Sonata: ESP(Electronic Stability Program) System / Steering Angle Sensor Description and Operation
Steering Wheel Angle Sensor detects rotating direction of the vehicle. Rotating direction detected by the sensor is communicated with HECU as CAN signal involving information about the angle through CAN communication line.
HECU detects speed of the steering wheel handling and the angle with this CAN signal. HECU also uses this signal as the input signal to control anti-roll.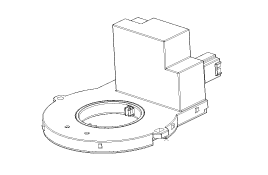 Specification Service Standard DescriptionSpecificationOperating voltage8 ~ 16VOperating temperature-40 ~ 85°C(-40 ~ 185°F)Current consumptionMax.150mAMeasuring rangeAngle-780 ~ 779.9°Angula ...
Schematic diagram [EPB Type] [General Type] ...
Other information:
Hyundai Sonata LF 2014-2019 Service Manual: Thermostat Troubleshooting
Troubleshooting SymptomsPossible CausesRemedyCoolant leakage • From the thermostat gasket Check the mounting bolts • Check the torque of the mounting bolts • Retighten the bolts and check leakage again. Check the gasket for damage • Check gasket or seal for damage ...
Hyundai Sonata LF 2014-2019 Service Manual: Canister Repair procedures
Removal 1. Turn the ignition switch OFF and disconnect the negative (-) battery cable. 2. Remove the fuel tank. (Refer to Engine Control / Fuel System - " Fuel Tank") 3. Disconnect the vent hose (A). 4. Disconnect the vapor tube quick-connector (B,C). 5. Remove installation ...
© 2018-2022 www.hsonatalf.org