Hyundai Sonata: Engine Control System / Knock Sensor (KS) Description and Operation
Knocking is a phenomenon characterized by undesirable vibration and noise and can cause engine damage. Knock Sensor (KS) is installed on the cylinder block and senses engine knocking.
When knocking occurs, the vibration from the cylinder block is applied as pressure to the piezoelectric element. When a knock occurs, the sensor produces voltage signal. The ECM retards the ignition timing when knocking occurs. If the knocking disappears after retarding the ignition timing, the ECM will advance the ignition timing. This sequential control can improve engine power, torque and fuel economy.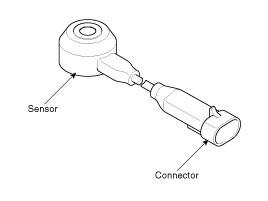 Inspection 1. Check the signal waveform of the CMPS and CKPS using the GDS. Specification: Refer to "Wave Form" Removal • DON'T remove the camshaft pos ...
Specification ItemSpecificationResistance(M?)4.87 ...
Other information:
Hyundai Sonata LF 2014-2019 Owners Manual: Rear Parking Assist System
The Rear Parking Assist System assists the driver during reverse movement of the vehicle by chiming if any object is sensed within the distance of 50 inches (120 cm) behind the vehicle. This system is a supplemental system that senses objects within the range and location of the sensors, it cann ...
Hyundai Sonata LF 2014-2019 Service Manual: Auto Light Sensor Repair procedures
Inspection Check if the auto light control operates like a timing chart shown below. Tail lamp output and head lamp (Low) output is controlled based on the auto light sensor's input (illumination intensity) when the Auto Light Switch in Multi-Function Switch is turned ON, and the vehicle ...
© 2018-2023 www.hsonatalf.org