Hyundai Sonata: Engine Control System / Knock Sensor (KS) Description and Operation
Knocking is a phenomenon characterized by undesirable vibration and noise and can cause engine damage. Knock Sensor (KS) is installed on the cylinder block and senses engine knocking.
When knocking occurs, the vibration from the cylinder block is applied as pressure to the piezoelectric element. When a knock occurs, the sensor produces voltage signal. The ECM retards the ignition timing when knocking occurs. If the knocking disappears after retarding the ignition timing, the ECM will advance the ignition timing. This sequential control can improve engine power, torque and fuel economy.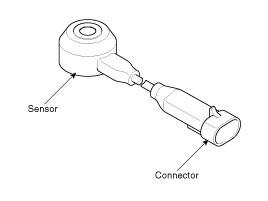 Inspection 1. Check the signal waveform of the CMPS and CKPS using the GDS. Specification: Refer to "Wave Form" Removal • DON'T remove the camshaft pos ...
Specification ItemSpecificationResistance(M?)4.87 ...
Other information:
Hyundai Sonata LF 2014-2019 Service Manual: Identification Numbers
General Information Identification Number Description Vehicle Identification Number 1. World Manufacturer Identifier (WMI) - 5NP : Passenger vehicle - 5NM : MPV (Multipurpose Passenger Vehicle) / SUV (Sports Utility Vehicle) / RV (Recreational Vehicle) 2. Vehicle line - E : SONATA ...
Hyundai Sonata LF 2014-2019 Service Manual: Brake Booster Repair procedures
Brake Booster Operating Test For simple checking of the brake booster operation, carry out the following tests. 1. Run the engine for one or two minutes, and then stop it. If the pedal depresses fully the first time but gradually becomes higher when depressed succeeding times, the booster ...
© 2018-2021 www.hsonatalf.org