Hyundai Sonata: Engine Control System / Electric WGT Control Actuator Description and Operation
The Electric WGT Control Actuator is installed on the turbocharger.It operates the vain in the Waste Gate Turbocharger (WGT) and regulates the compressed air amount by the ECM's PWM signal. This actuator consists of a DC motor which actuates the vane, a 2-step gear which increases torque of the DC motor, a position sensor which detects status of the vane, an electric control unit which drives the DC motor.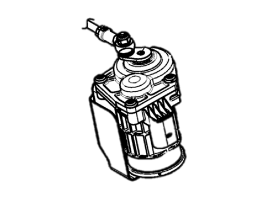 Inspection 1. Turn the ignition switch OFF. 2. Disconnect the OCV connector. 3. Measure resistance between the OCV terminals 1 and 2. 4. Check that the resistance is within the specifi ...
Specification [EWGA Position Sensor] Position Output Voltage[V] Operating Angle[°] Range of Rod [mm], reference Mechanical Close end stop Position (MCP) 4.8 0 0 Electrical Close end ...
Other information:
Hyundai Sonata LF 2014-2019 Service Manual: Troubleshooting
Basic Troubleshooting Basic Troubleshooting Guide Customer Problem Analysis Sheet Basic Inspection Procedure Measuring Condition of Electronic Parts' Resistance The measured resistance at high temperature after vehicle running may be high or low. So all resistance must be measured at ambi ...
Hyundai Sonata LF 2014-2019 Service Manual: Engine Mounting Repair procedures
Removal and Installation Rollroad Mounting 1. Rollroad bracket mounting bolts and rollroad bracket (A). Tightening torque Bolt (B) : 107.9 ~ 127.5 N.m (11.0 ~ 13.0 kgf.m, 79.6 ~ 94.0 lb-ft) Bolt (C) : 49.0 ~ 63.7 N.m (5.0 ~ 6.5 kgf.m, 36.2 ~ 47.0 lb-ft) 2. Remove the rollroad sup ...
© 2018-2021 www.hsonatalf.org