Hyundai Sonata: Engine Control System / Ambient Temperature Sensor (ATS) Description and Operation
Ambient Temperature Sensor (ATS) is installed on the front-end module and senses the ambient temperature. ECM receives not only the intake air temperatue but also the ambient air temperature informations at the same time to control the intake air quantity precisely provided through the turbo charger. The electrical resistance of the thermistor decreases as the temperature increases, and increases as the temperature decreases This sensor has a Negative Temperature Coefficient (NTC) and its resistance is in inverse proportion to the temperature.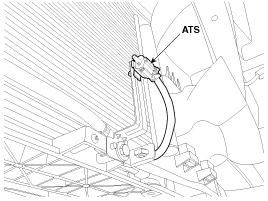 Inspection 1. Turn the ignition switch OFF. 2. Disconnect the IATS connector. 3. Measure resistance between the IATS terminals 3 and 4. 4. Check that the resistance is within the speci ...
Specification Temperature[°C(°F)]Resistance(k?) -40(-40)841.2~1019.3 -20(-4)263.8~306.50(32)92.4~102.810(50)57.0~62.220(68)36.2~38.840(104)15.3~16.750(122)10.3~11.460(140)7.1~8.080(17 ...
Other information:
Hyundai Sonata LF 2014-2019 Service Manual: Antenna Repair procedures
Inspection Glass Antenna Test 1. Wrap aluminum foil (A) around the tip of the tester probe (B) as shown. 2. Touch one tester probe to the glass antenna terminal (A) and move the other tester probe along the antenna wires to check that continuity exists. Glass Antenna Repair &nb ...
Hyundai Sonata LF 2014-2019 Service Manual: Description and Operation
Description The immobilizer system will disable the vehicle unless the proper ignition key is used, in addition to the currently available anti-theft systems such as car alarms, the immobilizer system aims to drastically reduce the rate of auto theft. 1. Transponder (TP) – IMMO ECU Comm ...
© 2018-2021 www.hsonatalf.org