Hyundai Sonata: Controller / Heater & A/C Control Unit (DATC) Components and Components Location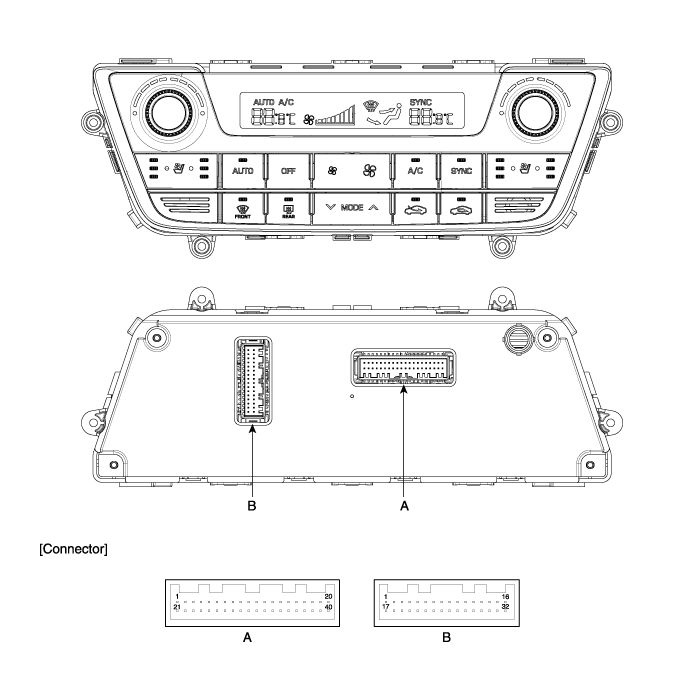 Connector [A]
| | | | |
| --- | --- | --- | --- |
| Pin NO | Function | Pin NO | Function |
| 1 | ILL+ (TAIL) | 21 | Detent OUT (+) |
| 2 | Sensor REF (+5V) | 22 | HTD (Rear defog indicator) |
| 3 | Mode control actuator (Vent) | 23 | Rear defog switch |
| 4 | Mode control actuator (Defrost) | 24 | C_CAN High |
| 5 | Mode control actuator (Feedback) | 25 | C_CAN Low |
| 6 | Intake actuator (Fresh) | 26 | ECV+ |
| 7 | Intake actuator (Recirculation) | 27 | ECV- (Ground) |
| 8 | Intake actuator (Feedback) | 28 | AMB Sensor (+) |
| 9 | Driver's temperature control actuator (Cool) | 29 | EVAP Sensor (+) |
| 10 | Driver's temperature control actuator (Warm) | 30 | Photo sensor (-)_LH |
| 11 | Driver's temperature control actuator (Feedback) | 31 | Photo sensor (-)_RH |
| 12 | Passenger's temperature control actuator (Cool) | 32 | - |
| 13 | Passenger's temperature control actuator (Warm) | 33 | - |
| 14 | Passenger's temperature control actuator (Feedback) | 34 | - |
| 15 | No K-line | 35 | - |
| 16 | Driver's seat heat switch | 36 | - |
| 17 | Passenger's seat heat switch | 37 | - |
| 18 | Driver's cool switch | 38 | - |
| 19 | Passenger's cool switch | 39 | - |
| 20 | ILL- (RHEO) | 40 | Sensor ground |
Connector [B]
| | | | |
| --- | --- | --- | --- |
| Pin NO | Function | Pin NO | Function |
| 1 | Ground | 17 | Ground |
| 2 | - | 18 | - |
| 3 | - | 19 | Driver's seat heat indicator (Low) |
| 4 | - | 20 | Driver's seat heat indicator (Mid) |
| 5 | - | 21 | Driver's seat heat indicator (High) |
| 6 | FET (Gate) | 22 | Passenger's seat heat indicator (Low) |
| 7 | FET Drain (Feedback) | 23 | Passenger's seat heat indicator (Mid) |
| 8 | - | 24 | Passenger's seat heat indicator (High) |
| 9 | - | 25 | Driver's seat cool indicator (Low) |
| 10 | Steering wheel heat switch | 26 | Driver's seat cool indicator (Mid) |
| 11 | Steering wheel heat indicator | 27 | Driver's seat cool indicator (High) |
| 12 | Blower motor (+) | 28 | Passenger's seat cool indicator (Low) |
| 13 | - | 29 | Passenger's seat cool indicator (Mid) |
| 14 | - | 30 | Passenger's seat cool indicator (High) |
| 15 | IGN1 | 31 | - |
| 16 | IGN2 | 32 | Battery (+) |
Replacement 1. Disconnect the negative (-) battery terminal. 2. Using a screwdriver or remover, remove the center fascia panel (A). 3. Disconnect the A/C & heater controller connectors ...
Self Diagnosis 1. Self-diagnosis process. • When operating the self-diagnostics, the below fault (self-diagnostics code) will blink at 0.5 seconds interval on the t ...
Other information:
Hyundai Sonata LF 2014-2019 Service Manual: Specifications
Specifications [Memory Power Seat Unit ] ItemSpecificationsRated voltageDC 12VOperating VoltageDC 9V ~ 16VOperating Temperature Range-30°C ~ 75°C Dark currentMax. 1? [Memory Power Seat Switch ] ItemSpecificationsRated voltageDC 5VType Soft Feeling Tact typeOperating Temperature Range-30°C ...
Hyundai Sonata LF 2014-2019 Owners Manual: Electric Power Steering (EPS)
The system assists you with steering the vehicle. If the engine is turned off or if the power steering system becomes inoperative, you may still steer the vehicle, but it will require increased steering effort. Should you notice any change in the effort required to steer during normal vehicle ope ...
© 2018-2023 www.hsonatalf.org