Hyundai Sonata: Controller / Heater & A/C Control Unit (DATC) Components and Components Location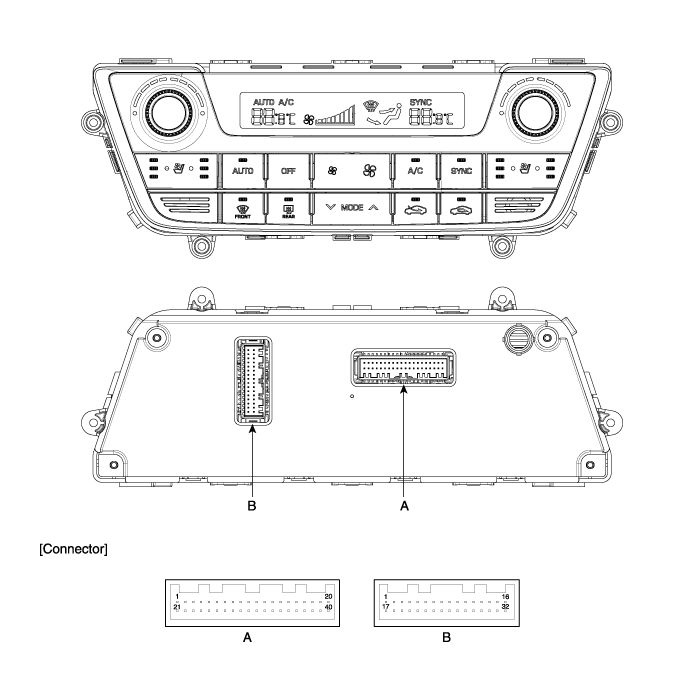 Connector [A]
| | | | |
| --- | --- | --- | --- |
| Pin NO | Function | Pin NO | Function |
| 1 | ILL+ (TAIL) | 21 | Detent OUT (+) |
| 2 | Sensor REF (+5V) | 22 | HTD (Rear defog indicator) |
| 3 | Mode control actuator (Vent) | 23 | Rear defog switch |
| 4 | Mode control actuator (Defrost) | 24 | C_CAN High |
| 5 | Mode control actuator (Feedback) | 25 | C_CAN Low |
| 6 | Intake actuator (Fresh) | 26 | ECV+ |
| 7 | Intake actuator (Recirculation) | 27 | ECV- (Ground) |
| 8 | Intake actuator (Feedback) | 28 | AMB Sensor (+) |
| 9 | Driver's temperature control actuator (Cool) | 29 | EVAP Sensor (+) |
| 10 | Driver's temperature control actuator (Warm) | 30 | Photo sensor (-)_LH |
| 11 | Driver's temperature control actuator (Feedback) | 31 | Photo sensor (-)_RH |
| 12 | Passenger's temperature control actuator (Cool) | 32 | - |
| 13 | Passenger's temperature control actuator (Warm) | 33 | - |
| 14 | Passenger's temperature control actuator (Feedback) | 34 | - |
| 15 | No K-line | 35 | - |
| 16 | Driver's seat heat switch | 36 | - |
| 17 | Passenger's seat heat switch | 37 | - |
| 18 | Driver's cool switch | 38 | - |
| 19 | Passenger's cool switch | 39 | - |
| 20 | ILL- (RHEO) | 40 | Sensor ground |
Connector [B]
| | | | |
| --- | --- | --- | --- |
| Pin NO | Function | Pin NO | Function |
| 1 | Ground | 17 | Ground |
| 2 | - | 18 | - |
| 3 | - | 19 | Driver's seat heat indicator (Low) |
| 4 | - | 20 | Driver's seat heat indicator (Mid) |
| 5 | - | 21 | Driver's seat heat indicator (High) |
| 6 | FET (Gate) | 22 | Passenger's seat heat indicator (Low) |
| 7 | FET Drain (Feedback) | 23 | Passenger's seat heat indicator (Mid) |
| 8 | - | 24 | Passenger's seat heat indicator (High) |
| 9 | - | 25 | Driver's seat cool indicator (Low) |
| 10 | Steering wheel heat switch | 26 | Driver's seat cool indicator (Mid) |
| 11 | Steering wheel heat indicator | 27 | Driver's seat cool indicator (High) |
| 12 | Blower motor (+) | 28 | Passenger's seat cool indicator (Low) |
| 13 | - | 29 | Passenger's seat cool indicator (Mid) |
| 14 | - | 30 | Passenger's seat cool indicator (High) |
| 15 | IGN1 | 31 | - |
| 16 | IGN2 | 32 | Battery (+) |
Replacement 1. Disconnect the negative (-) battery terminal. 2. Using a screwdriver or remover, remove the center fascia panel (A). 3. Disconnect the A/C & heater controller connectors ...
Self Diagnosis 1. Self-diagnosis process. • When operating the self-diagnostics, the below fault (self-diagnostics code) will blink at 0.5 seconds interval on the t ...
Other information:
Hyundai Sonata LF 2014-2019 Owners Manual: Rear Parking Assist System
The Rear Parking Assist System assists the driver during reverse movement of the vehicle by chiming if any object is sensed within the distance of 50 inches (120 cm) behind the vehicle. This system is a supplemental system that senses objects within the range and location of the sensors, it cann ...
Hyundai Sonata LF 2014-2019 Owners Manual: Child-Protector Rear Door locks
The child safety lock is provided to help prevent children seated in the rear from accidentally opening the rear doors. The rear door safety locks should be used whenever children are in the vehicle. The child safety lock is located on the edge of each rear door. When the child safety lock is in ...
© 2018-2022 www.hsonatalf.org