Hyundai Sonata: Air Conditioning System / Compressor Description and Operation
The compressor is the power unit of the A/C system.
It is located on the side of engine block and driven by a V-belt of the engine.
The compressor changes low pressure and low temperature refrigerant gas into high pressure and high temperature refrigerant gas.
Variable Swash Plate Compressor
The compressor has a swash plate that rotates to reciprocate pistons, which compress refrigerant.
The variable swash plate compressor controls the swash plate angle to change the refrigerant displacement. It achieves precise cooling capability control in accordance with vehicle interior and driving conditions.
The externally controlled variable swash plate compressor changes the swash plate angle by an ECV (Electric Control Valve) in accordance with an electrical signal from the heater & A/C control unit.
This enables stable temperature control and improved driving sensation.
ECV Control Diagram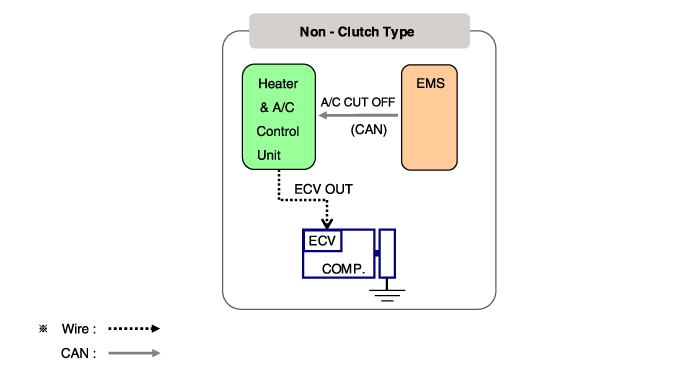 Replacement 1. If the compressor is marginally operable, run the engine at idle speed, and let the air conditioning work for a few minutes, then shut the engine off. 2. Disconnect the nega ...
Components Location 1. Comperssor ...