Hyundai Sonata: AVN System / AUX jack Description and Operation
The multimedia jack on the console upper cover is for customers who like to listen to external portable music players like the MP3 etc., through the vehicle's sound system when it is linked to this jack. The customer has this added option.
In case of distortions from media connected to the AUX source, the audio unit may not be defective but the output level of the used media does not match the specification of the AUX input.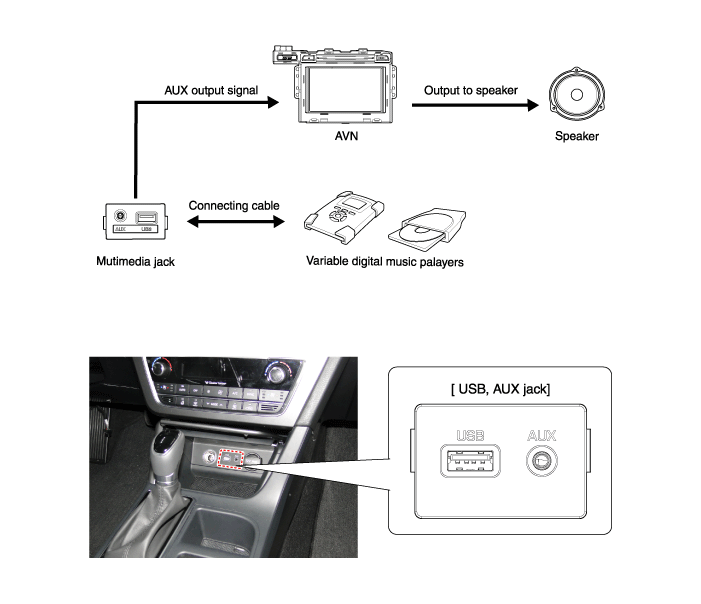 Removal 1. Disconnect the battery (-) terminals. 2. Remove the floor console assembly. (Refer to Body - "Floor Console Assembly") 3. Remove the multimedia jack (A) after disconnect the co ...
Other information:
Hyundai Sonata LF 2014-2019 Service Manual: Troubleshooting
Troubleshooting Ignition System SymptomSuspect AreaRemedyEngine will not start or is hard to start (Cranks OK)Ignition lock switchInspect ignition lock switch, or replace as requiredIgnition coilInspect ignition coil, or replace as requiredSpark plugsInspect spark plugs, or replace as requir ...
Hyundai Sonata LF 2014-2019 Owners Manual: Smart key precautions
The smart key will not work if any of the following occur: The smart key is close to a radio transmitter such as a radio station or an airport which can interfere with normal operation of the transmitter. The smart key is near a mobile two way radio system or a cellular phone. Another vehicle' ...
© 2018-2022 www.hsonatalf.org