Hyundai Sonata: AVN System / AUX jack Description and Operation
The multimedia jack on the console upper cover is for customers who like to listen to external portable music players like the MP3 etc., through the vehicle's sound system when it is linked to this jack. The customer has this added option.
In case of distortions from media connected to the AUX source, the audio unit may not be defective but the output level of the used media does not match the specification of the AUX input.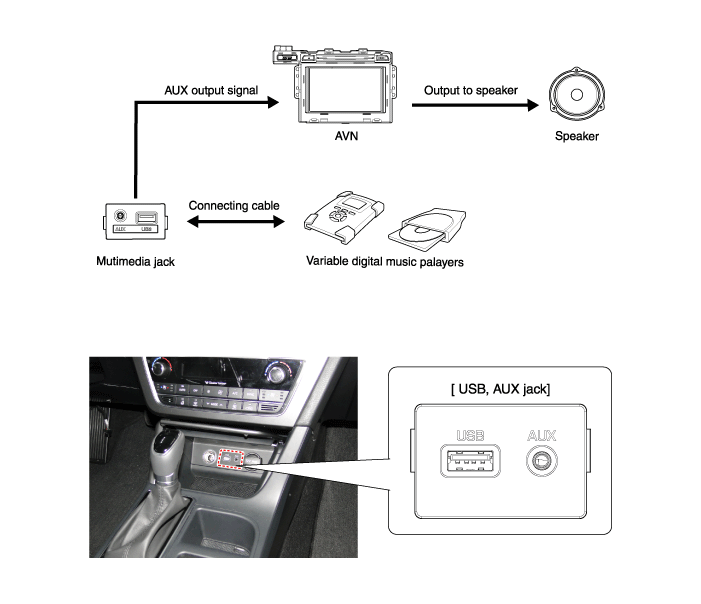 Removal 1. Disconnect the battery (-) terminals. 2. Remove the floor console assembly. (Refer to Body - "Floor Console Assembly") 3. Remove the multimedia jack (A) after disconnect the co ...
Other information:
Hyundai Sonata LF 2014-2019 Service Manual: Auto Head Lamp Leveling Unit Troubleshooting
Inspection with GDS Initialization and diagnosis sequence by using GDS equipment. Below content summarize the procedure for A/S using GDS. NoProcedure1Locate vehicle to flat plane2Tire check3IGN1 ON4Head lamp Low Beam ON5Connection with diagnostic tool6Initial command by diagnostic tool7Clear ...
Hyundai Sonata LF 2014-2019 Service Manual: Repair procedures
Replacement 1. Disconnect the battery negative cable from the battery and then wait for at least 30 seconds. 2. Turn the steering wheel so that the front wheels can face straight ahead. 3. Remove the airbag module. 4. Remove the DAB module. (1) Disconnect the air bag connector (A). ...
© 2018-2021 www.hsonatalf.org