Hyundai Sonata: Smart High Beam / AFLS (Adaptive Front Lighting System) a.k.a. DBL (Dynamic Bending Light)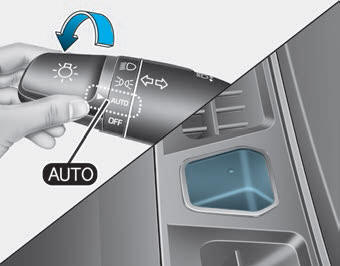 Adaptive front lighting system uses the steering angle and vehicle speed to help maximize your field of vision by swiveling and leveling the headlamp.
Change the switch to the AUTO position when the engine is running. The adaptive front lighting system will operate when the headlamps are ON. To turn off the AFLS, change the switch to other positions. After turning the AFLS off, headlamp swiveling no longer occurs, but the leveling will operate continuously.
If the AFLS malfunction indicator comes on, the AFLS is not working properly. Drive to the nearest safe location and restart the engine. If the indicator continuously remains on, we recommend that the system be checked by an authorized HYUNDAI dealer.
© 2018-2023 www.hsonatalf.org