Hyundai Sonata: Smart Cruise Control Speed / To set Smart Cruise Control speed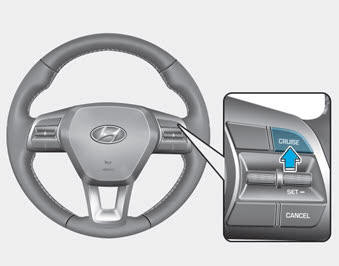 1. Push the CRUISE button on the steering wheel to turn the system on. The CRUISE indicator will illuminate.
2. Accelerate to the desired speed.
The Smart Cruise Control speed can be set as follows:
20 mph (30 km/h)~110 mph (180 km/h): when there is no vehicle in front
0 mph (0 km/h)~110 mph (180 km/h): when there is a vehicle in front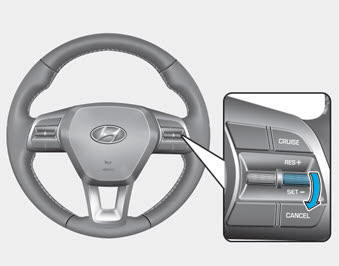 3. Push the toggle switch down (SET-), and release it at the desired speed. The Set Speed and Vehicle-to-Vehicle Distance on the LCD display will illuminate.
4. Release the accelerator pedal. The desired speed will automatically be maintained.
If there is a vehicle in front of you, the speed may decrease to maintain the distance to the vehicle ahead.
On a steep grade, the vehicle may slow down or speed up slightly while going uphill or downhill.