Hyundai Sonata: Engine Control System / Manifold Absolute Pressure Sensor (MAPS) Description and Operation
Manifold Absolute Pressure Sensor (MAPS) is a speed-density type sensor and is installed on the surge tank. It senses absolute pressure of the surge tank and transfers the analog signal proportional to the pressure to the ECM. By using this signal, the ECM calculates the intake air quantity and engine speed.
The MAPS consists of a piezo-electric element and a hybrid IC amplifying the element output signal. The element is silicon diaphragm type and adapts pressure sensitive variable resistor effect of semi-conductor. Because 100% vacuum and the manifold pressure apply to both sides of the sensor respectively, this sensor can output analog signal by using the silicon variation proportional to pressure change.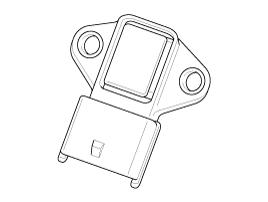 Inspection Throttle Position Sensor (TPS) 1. Connect the GDS on the Data Link Connector (DLC). 2. Start the engine and measure the output voltage of TPS 1 and 2 at C.T. and W.O.T. Specific ...
Specification Pressure[kPa (kgf/cm?, psi)]Output Voltage (V)32.5 (0.33, 4.71)0.5284 (2.90, 41.19)4.5 ...
Other information:
Hyundai Sonata LF 2014-2019 Owners Manual: Power Brakes
Your vehicle has power-assisted brakes that adjust automatically through normal usage. If the engine is not running or is turned off while driving, the power assist for the brakes will not work. You can still stop your vehicle by applying greater force to the brake pedal than typical. The stoppin ...
Hyundai Sonata LF 2014-2019 Service Manual: Water Jacket Seperator Repair procedures
Remove and Installation 1. Remove the cylinder head assembly. (Refet to Cylinder Head Assembli - "Cylinder Head") 2. Remove the water jacket seperator (A). Be careful not to deform or damage it when removing. 3. Install in the reverse order of removal. ...
© 2018-2023 www.hsonatalf.org