Hyundai Sonata: Interior features / Clock
With AVN system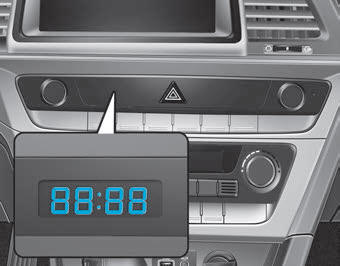 You can set the clock by using the Navigation system.
GPS Time check
The clock is automatically updated through the navigation system.
GPS Time non-check
The clock can be manually adjusted.
1. Select the "System Settings" on the "INFO/Setup" screen.
2. Select the "Date/Time".
3. Select the "Set time" by rotating the controller on the center console panel.
4. Select the "Time Format" to the 12 hour or 24 hour format.
For more information, please refer to the manual that was separately supplied with your vehicle.
WARNING
Do not adjust the clock while driving, you may lose your steering control and cause an accident that results in severe personal injury or death.