Hyundai Sonata: Audio / Audio Unit Components and Components Location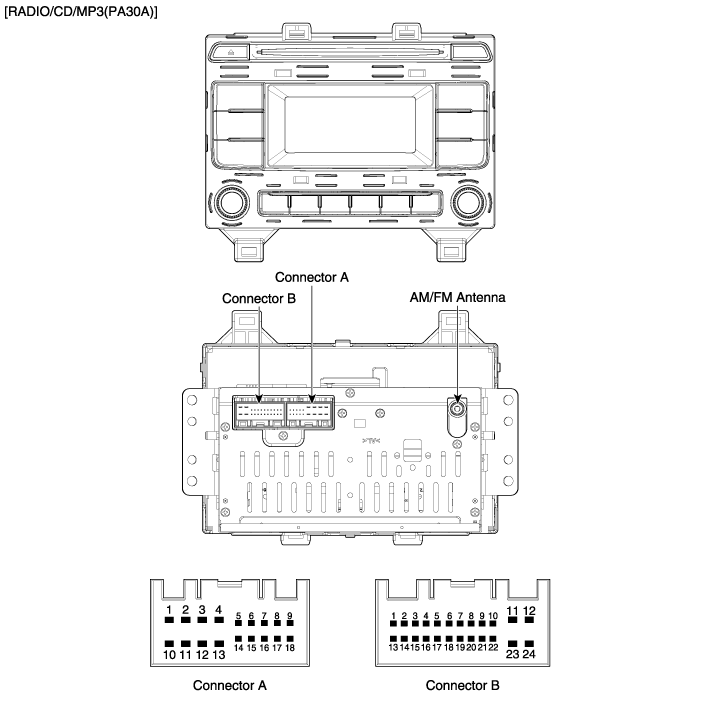 Connector Pin Information
No




Connector A




Connector B




1




Rear left speaker (+)




CAN High




2




Front left speaker (+)




-




3




Front right speaker (+)




-




4




Rear right speaker (+)




Steering wheel remote




5




-




-




6




-




USB D (+)




7




-




USB VDD




8




Illumination (+)




AUX R IN




9




Detent




AUX GND




10




Rear left speaker (-)




Mic (+) B/T




11




Front left speaker (-)




ACC




12




Front right speaker (-)




B+




13




Rear right speaker (-)




CAN Low




14




-




-




15




-




-




16




-




Speed




17




Illumination (-)




Remote GND




18




Remote antenna




USB D (-)




19






USB GND




20




AUX DETECT




21




AUX L IN




22




Mic (-) B/T




23




-




24




Power GND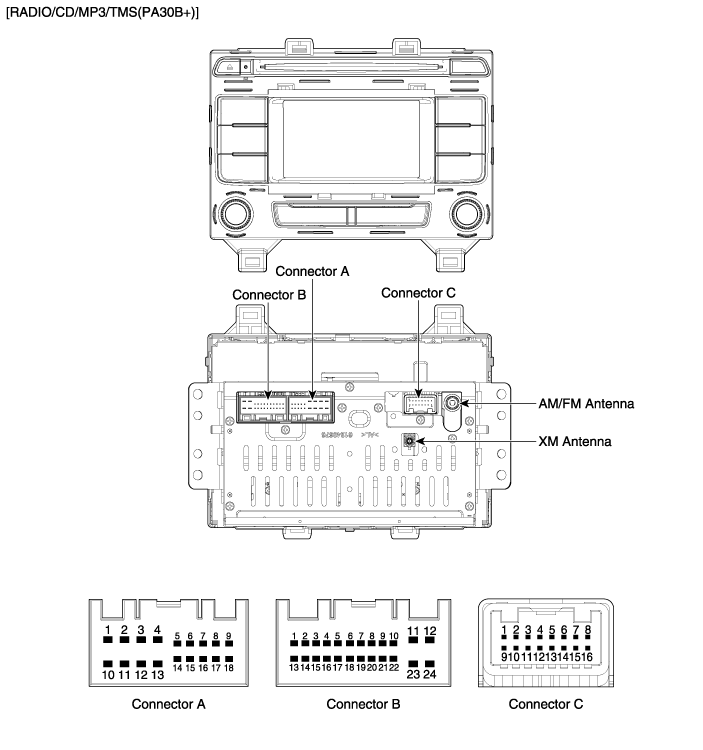 Connector Pin Information
No




Connector A




Connector B




Connector C




1




Rear left speaker (+)




CAN High




-




2




Front left speaker (+)




TMU audio (+)




-




3




Front right speaker (+)




-




Camera ground




4




Rear right speaker (+)




Steering wheel remote




Camera video input




5




-




-




-




6




-




USB D (+)




-




7




-




USB VDD




-




8




Illumination (+)




AUX R IN




-




9




-




AUX GND




-




10




Rear left speaker (-)




Mic (+) B/T




Camera battery (+)




11




Front left speaker (-)




ACC




Parking ground




12




Front right speaker (-)




B+




R detector




13




Rear right speaker (-)




CAN Low




-




14




-




TMU audio (-)




-




15




-




Auto light




-




16




-




Speed




-




17




Illumination (-)




Remote GND






18




Remote antenna




USB D (-)




19






USB GND




20




AUX DETECT




21




AUX L IN




22




Mic (-) B/T




23




-




24




Power GND



Component Location 1. Audio unit2. Midrange speaker3. Center speaker4. Glass antenna amplifier5. Front door speaker6. Rear door speaker7. Woofer speaker (Option)8. Antenna feeder cable9. Feeder c ...
Removal 1. Disconnect the negative (-) battery terminal. 2. Remove the cluster fascia upper panal. (Refer to Body - "Cluster Fascia Upper Panel") 3. Remove the audio head unit (A) after l ...
Other information:
Hyundai Sonata LF 2014-2019 Service Manual: Specifications
Specifications Transmission typeD7UF1Egnine typeGasoline 1.6 T-GDITransmission fluidQuantity1.9 ~ 2.0 LSpecified lubricantAPI Service GL-4, SAE 70W• Recommended oil - SHELL: SPIRAX S6 GHME 70W DCTF - SK: HK DCTF 70W - GS CALTEX: GS DCTF HD 70W Gear ratio1st3.9292nd2.3183rd2.0434 ...
Hyundai Sonata LF 2014-2019 Service Manual: Hood Lift Repair procedures
Replacement • When removing and installing the hood lift, an assistant is necessary. • When removing the hood lift, first remove the lower portion and then upper portion. 1. Using a screwdriver, lift the socket clips (A) up slightly on both ends of the l ...
© 2018-2021 www.hsonatalf.org