Hyundai Sonata: Audio / Audio Unit Components and Components Location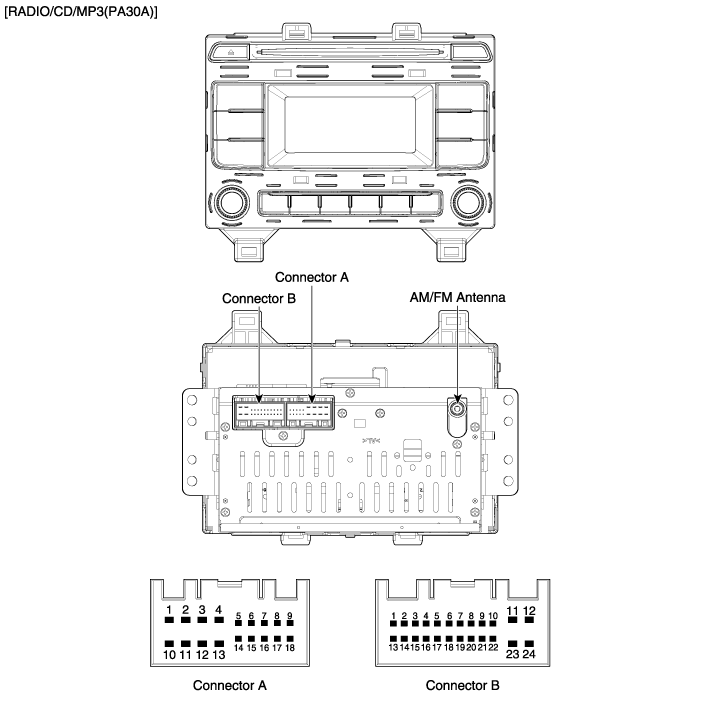 Connector Pin Information
No




Connector A




Connector B




1




Rear left speaker (+)




CAN High




2




Front left speaker (+)




-




3




Front right speaker (+)




-




4




Rear right speaker (+)




Steering wheel remote




5




-




-




6




-




USB D (+)




7




-




USB VDD




8




Illumination (+)




AUX R IN




9




Detent




AUX GND




10




Rear left speaker (-)




Mic (+) B/T




11




Front left speaker (-)




ACC




12




Front right speaker (-)




B+




13




Rear right speaker (-)




CAN Low




14




-




-




15




-




-




16




-




Speed




17




Illumination (-)




Remote GND




18




Remote antenna




USB D (-)




19






USB GND




20




AUX DETECT




21




AUX L IN




22




Mic (-) B/T




23




-




24




Power GND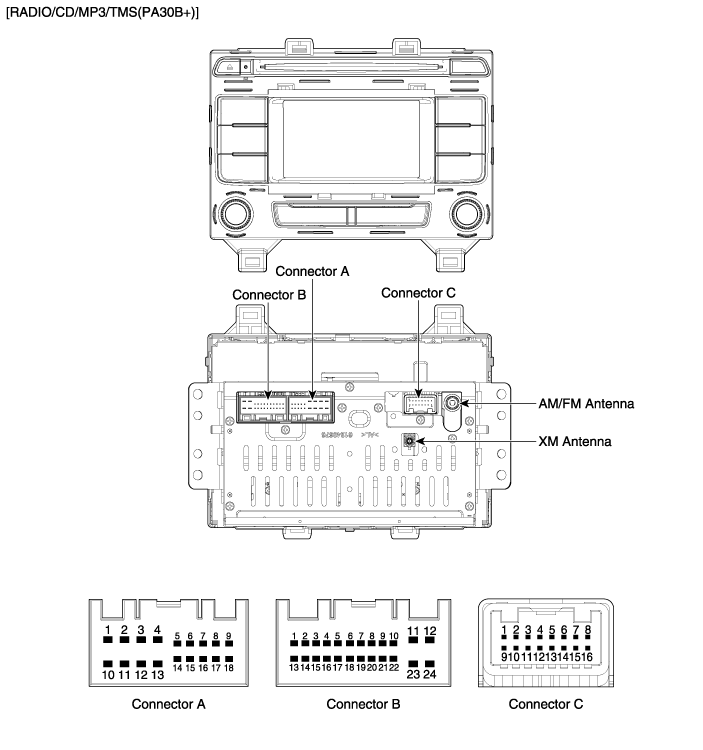 Connector Pin Information
No




Connector A




Connector B




Connector C




1




Rear left speaker (+)




CAN High




-




2




Front left speaker (+)




TMU audio (+)




-




3




Front right speaker (+)




-




Camera ground




4




Rear right speaker (+)




Steering wheel remote




Camera video input




5




-




-




-




6




-




USB D (+)




-




7




-




USB VDD




-




8




Illumination (+)




AUX R IN




-




9




-




AUX GND




-




10




Rear left speaker (-)




Mic (+) B/T




Camera battery (+)




11




Front left speaker (-)




ACC




Parking ground




12




Front right speaker (-)




B+




R detector




13




Rear right speaker (-)




CAN Low




-




14




-




TMU audio (-)




-




15




-




Auto light




-




16




-




Speed




-




17




Illumination (-)




Remote GND






18




Remote antenna




USB D (-)




19






USB GND




20




AUX DETECT




21




AUX L IN




22




Mic (-) B/T




23




-




24




Power GND



Component Location 1. Audio unit2. Midrange speaker3. Center speaker4. Glass antenna amplifier5. Front door speaker6. Rear door speaker7. Woofer speaker (Option)8. Antenna feeder cable9. Feeder c ...
Removal 1. Disconnect the negative (-) battery terminal. 2. Remove the cluster fascia upper panal. (Refer to Body - "Cluster Fascia Upper Panel") 3. Remove the audio head unit (A) after l ...
Other information:
Hyundai Sonata LF 2014-2019 Service Manual: Specifications
Specifications Front Suspension ItemSpecificationSuspension typeMac Pherson StrutShock absorberTypeGasHPD (High Performance Damper) Rear Suspension ItemSpecificationSuspension typeMulti linkShock absorberTypeGasHPD (High Performance Damper) Wheel & Tire ItemSpecificationWheelal ...
Hyundai Sonata LF 2014-2019 Owners Manual: Defogging logic
To reduce the probability of fogging up the inside of the windshield, the air intake or air conditioning are controlled automatically according to certain conditions such as or position. To cancel or return the defogging logic, do the following. Manual climate control system 1. Turn the igniti ...
© 2018-2022 www.hsonatalf.org