Hyundai Sonata: Audio / Audio Unit Components and Components Location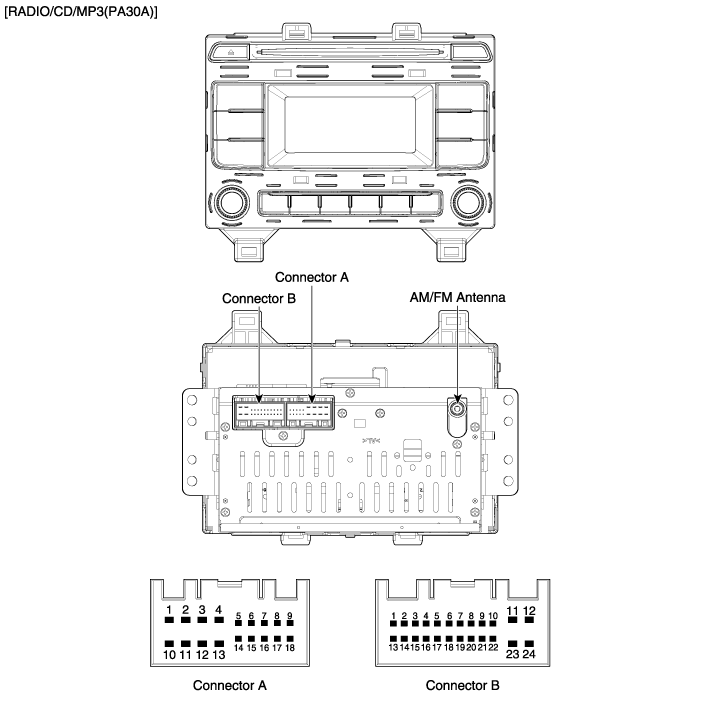 Connector Pin Information
No




Connector A




Connector B




1




Rear left speaker (+)




CAN High




2




Front left speaker (+)




-




3




Front right speaker (+)




-




4




Rear right speaker (+)




Steering wheel remote




5




-




-




6




-




USB D (+)




7




-




USB VDD




8




Illumination (+)




AUX R IN




9




Detent




AUX GND




10




Rear left speaker (-)




Mic (+) B/T




11




Front left speaker (-)




ACC




12




Front right speaker (-)




B+




13




Rear right speaker (-)




CAN Low




14




-




-




15




-




-




16




-




Speed




17




Illumination (-)




Remote GND




18




Remote antenna




USB D (-)




19






USB GND




20




AUX DETECT




21




AUX L IN




22




Mic (-) B/T




23




-




24




Power GND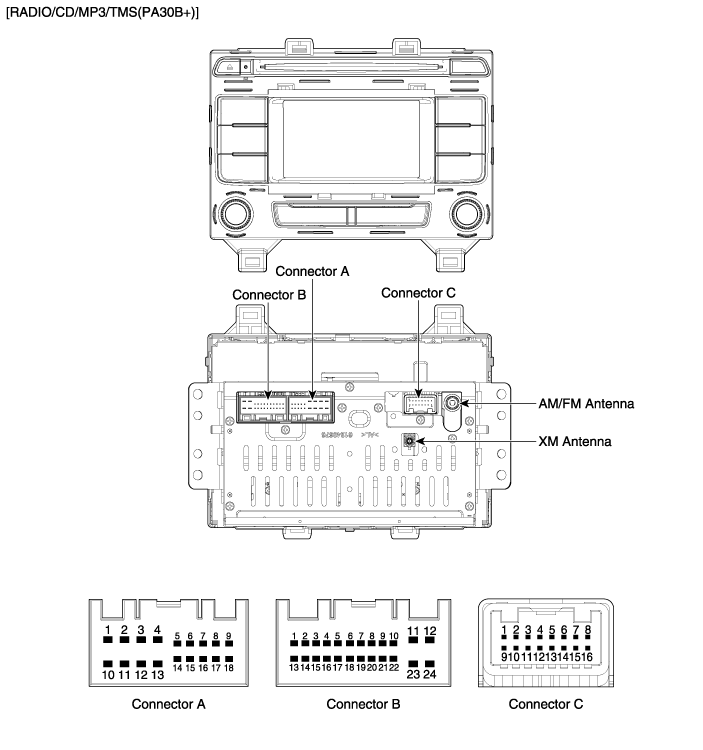 Connector Pin Information
No




Connector A




Connector B




Connector C




1




Rear left speaker (+)




CAN High




-




2




Front left speaker (+)




TMU audio (+)




-




3




Front right speaker (+)




-




Camera ground




4




Rear right speaker (+)




Steering wheel remote




Camera video input




5




-




-




-




6




-




USB D (+)




-




7




-




USB VDD




-




8




Illumination (+)




AUX R IN




-




9




-




AUX GND




-




10




Rear left speaker (-)




Mic (+) B/T




Camera battery (+)




11




Front left speaker (-)




ACC




Parking ground




12




Front right speaker (-)




B+




R detector




13




Rear right speaker (-)




CAN Low




-




14




-




TMU audio (-)




-




15




-




Auto light




-




16




-




Speed




-




17




Illumination (-)




Remote GND






18




Remote antenna




USB D (-)




19






USB GND




20




AUX DETECT




21




AUX L IN




22




Mic (-) B/T




23




-




24




Power GND



Component Location 1. Audio unit2. Midrange speaker3. Center speaker4. Glass antenna amplifier5. Front door speaker6. Rear door speaker7. Woofer speaker (Option)8. Antenna feeder cable9. Feeder c ...
Removal 1. Disconnect the negative (-) battery terminal. 2. Remove the cluster fascia upper panal. (Refer to Body - "Cluster Fascia Upper Panel") 3. Remove the audio head unit (A) after l ...
Other information:
Hyundai Sonata LF 2014-2019 Service Manual: Rear Pillar Trim Repair procedures
Replacement • Put on gloves to protect your hands. • When prying with a flat-tip screwdriver or use a prying trim tool, wrap it with protective tape, and apply protective tape around the related parts, to prevent damage. • Us ...
Hyundai Sonata LF 2014-2019 Owners Manual: Trip computer
The trip computer is a microcomputer- controlled driver information system that displays information related to driving. Information Some driving information stored in the trip computer (for example Average Vehicle Speed) resets if the battery is disconnected. Trip modes To change the trip mode, ...
© 2018-2022 www.hsonatalf.org