Hyundai Sonata: Exterior features / Trunk
Opening the trunk
1. Make sure the shift lever is in P (Park).
2. Then do one of the following :
- Press the button (1) on the trunk handle after locking or unlocking the door by remote key or smart key.
- Press the trunk unlock button of remote key or smart key for more than 1 second.
- Press the button (1) on the trunk itself with the Smart Key in your possession.
WARNING
The button (1) on the trunk handle is made of the rubber. Do not press it with the sharp objects such as the key, screwdriver or drill.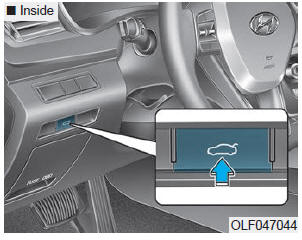 - Use the trunk release button.
3. Lift the trunk lid up.
Closing the trunk
Lower the trunk lid and press down until it locks.
WARNING
Always keep the trunk lid completely closed while the vehicle is in motion. If it is left open or ajar, poisonous exhaust gases containing carbon monoxide (CO) may enter the vehicle and serious illness or death may result.
WARNING
Make sure there are no people or objects around the trunk before opening or closing the Power Trunk.Wait until the trunk is open fully and stopped before loading or unloading cargo from the vehicle.
NOTICE
To prevent damage to the trunk lift cylinders and the attached hardware, always close the trunk before driving.
Information
In cold and wet climates, trunk lock and trunk mechanisms may not work properly due to freezing conditions.