Hyundai Sonata: General Information / Specifications
| | |
| --- | --- |
| Item | Specification |
| Primary Coil Resistance (?) | 0.56 ± 10% [20°C (68°F)] |
| Secondary Coil Resistance (k?) | 2.0 ± 15% [20°C (68°F)] |
| | |
| --- | --- |
| Item | Specification |
| Type | SILZKR7E8G |
| Gap | 0.7 ~ 0.8 mm (0.0275 ~ 0.0314 in.) |
Item




Specification




Rated voltage




13.5V, 130A




Speed in use




1,000 ~ 18,000 rpm




Voltage regulator




IC Regulator built-in type




Regulator Setting Voltage




External mode




Refer to below graph




Internal mode




14.55 ± 0.3V




Temperature Gradient




External mode




0 ± 3 mV / °C?




Internal mode




-3.5 ± 2mV / °C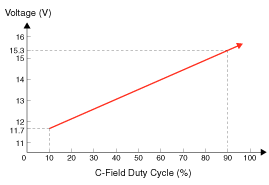 | | |
| --- | --- |
| Item | Specification |
| Model type | AGM80L-DIN |
| Capacity [20HR/5HR] (AH) | 80/64 |
| Cold Cranking Amperage (A) | 800 (SAE) /640 (EN) |
| Reserve Capacity (Min) | 140 |
| | |
| --- | --- |
| • | |
| | |
| --- | --- |
| • | Cold Cranking Ampere (CCA): Cold Cranking Amps is a rating used in the battery industry to define a battery's ability to start an engine in cold temperatures. |
| | |
| --- | --- |
| - | The rating is the number of amps a new, fully charged battery can deliver at -18 °C(-0.4 °F) for 30 seconds, while maintaining a voltage of at least 7.2 volts for a 12 volt battery. |
| | |
| --- | --- |
| - | The higher the CCA rating, the greater the starting power of the battery. |
| | |
| --- | --- |
| • | RESERVE CAPACITY (RC) : Reserve Capacity is a battery industry rating, defining a battery's ability to power a vehicle with an inoperative alternator or fan belt. |
| | |
| --- | --- |
| - | The rating is the number of minutes a battery at 26.7 °C(80 °F) can be discharged at 25 amps and maintain a voltage of 10.5 volts for a 12 volt battery. |
| | |
| --- | --- |
| - | The higher the reserve rating, the longer your vehicle can operate should your alternator or fan belt fail. |
Item




Specification




Rated voltage




12 V, 0.9 kW




The number of pinion teeth




10




Performance




[No-load, 11.5 V]




Ampere




Max. 60 A




Speed




Min. 5,500 rpm



| | | | |
| --- | --- | --- | --- |
| Item | N.m | kgf.m | lb-ft |
| Ignition coil installation bolt | 9.8 ~ 11.8 | 1.0 ~ 1.2 | 7.2 ~ 8.7 |
| Spark plug installation | 14.7 ~ 24.5 | 1.5 ~ 2.5 | 10.9 ~ 18.1 |
| Alternator B-terminal cable nut | 9.8 ~ 11.8 | 1.0 ~ 1.2 | 7.2 ~ 8.7 |
| Alternator installation bolt [12 mm (0.47 in.)] | 19.6 ~ 26.5 | 2.0 ~ 2.7 | 14.5 ~ 19.5 |
| Alternator installation bolt [14 mm (0.55 in.)] | 29.4 ~ 41.2 | 3.0 ~ 4.2 | 21.7 ~ 30.4 |
| Battery (+) terminal tightening nut | 7.8 ~ 9.8 | 0.8 ~ 1.0 | 5.2~ 8.7 |
| Battery (-) terminal tightening nut | 3.9 ~ 5.9 | 0.4 ~ 0.6 | 2.9 ~ 4.3 |
| Battery mounting bracket bolt | 19.6 ~ 29.4 | 2.0 ~ 3.0 | 14.5 ~ 30.4 |
| Battery tray installation bolt | 19.6 ~ 29.4 | 2.0 ~ 3.0 | 14.5 ~ 30.4 |
| Battery sensor cable installation bolt | 10.8 ~13.7 | 1.1 ~ 1.4 | 8.0 ~10.1 |
| Starter installation bolt | 49.0 ~ 63.7 | 5.0 ~ 6.5 | 36.2 ~ 47.0 |
Special Service Tools Tool (Number and name)IllustrationUse09373-27000Alternator pulley remover wrenchRemoval and installation of alternator pulley 09964-C1100SCC reflectorReflector to a ...
Other information:
Hyundai Sonata LF 2014-2019 Owners Manual: Washer Fluid
Checking the Washer Fluid Level Check the fluid level in the washer fluid reservoir and add fluid if necessary. Plain water may be used if washer fluid is not available. However, use washer solvent with antifreeze characteristics in cold climates to prevent freezing. WARNING To prevent serious in ...
Hyundai Sonata LF 2014-2019 Service Manual: Troubleshooting
Troubleshooting Trouble SymptomProbable CauseRemedyExcessive play in steeringLoose U-joint boltRetighten or replace as necessaryLoose yoke plugRetightenLoose steering gear mounting boltsRetightenLoose or worn tie rod endRetighten or replace as necessarySteering wheel does not return properlyExc ...
© 2018-2023 www.hsonatalf.org