Hyundai Sonata: Engine Control System / Purge Control Solenoid Valve (PCSV) Description and Operation
Purge Control Solenoid Valve (PCSV) is installed on the surge tank and controls the passage between the canister and the intake manifold. It is a solenoid valve and is open when the ECM grounds the valve control line. When the passage is open (PCSV ON), fuel vapor stored in the canister is transferred to the intake manifold.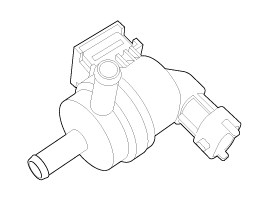 Inspection 1. Turn the ignition switch OFF. 2. Disconnect the injector connector. 3. Measure resistance between the injector terminals 1 and 2. 4. Check that the resistance is within t ...
Specification ItemSpecificationCoil Resistance (?)22.0 ~ 26.0 [20°C(68°F)] ...
Other information:
Hyundai Sonata LF 2014-2019 Service Manual: Troubleshooting
Troubleshooting SymptomPossible causeRemedyHard steeringImproper front wheel alignmentExcessive turning resistance of lower arm ball jointLow tire pressureNo power assistCorrectReplaceAdjustRepair or replacePoor return of steering wheel to centerImproper front wheel alignmentCorrectPoor or roug ...
Hyundai Sonata LF 2014-2019 Owners Manual: Mode selection
The mode selection button controls the direction of the air flow through the ventilation system. Air can be directed to the floor, dashboard outlets, or windshield. Five symbols are used to represent Face, Bi-Level, Floor, Floor-Defrost and Defrost air position. Face-Level (B, D, F) Air flow is ...
© 2018-2023 www.hsonatalf.org