Hyundai Sonata: Engine Control System / Injector Description and Operation
The GDI injector is similar to a standard injector, but sprays fuel at a much higher pressure directly into the combustion chamber and has a swirl disc to get the fuel swirling as it exits the nozzle. This aids in atomization of the fuel.
The ECM controls both the feed circuits (high side) to feed voltage to the injectors and the ground circuits (low side) to energize the injectors. Also, the feed for 2 injectors comes from the same driver set. As the ignition coils are paired with cylinders (1-4 and 2-3), the injectors are also set up in pairs.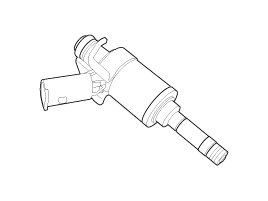 Inspection 1. Connect the GDS on the Data Link Connector (DLC). 2. Turn the ignition switch ON. 3. Measure the output voltage of the APS 1 and 2 at C.T and W.O.T. Specification: Refer t ...
Specification ItemSpecificationCoil Resistance (?)1.5 ± 0.075 [20°C(68°F)] ...
Other information:
Hyundai Sonata LF 2014-2019 Service Manual: CVVT & Camshaft Repair procedures
Removal 1. Remove the cylinder head cover. (Refer to Cylinder Head Assembly - "Cylinder Head Cover") 2. Turn the crankshaft damper pulley so that No. 1 piston is at top dead center. (1) Turn the crankshaft damper pulley and align its groove with the timing mark on the timing chain cove ...
Hyundai Sonata LF 2014-2019 Owners Manual: Winter Driving
Snow or Icy Conditions You need to keep sufficient distance between your vehicle and the vehicle in front of you. Apply the brakes gently. Speeding, rapid acceleration, sudden brake applications, and sharp turns are potentially very hazardous practices. During deceleration, use engine braking to ...
© 2018-2022 www.hsonatalf.org