Hyundai Sonata: General Information / Identification Numbers
General Information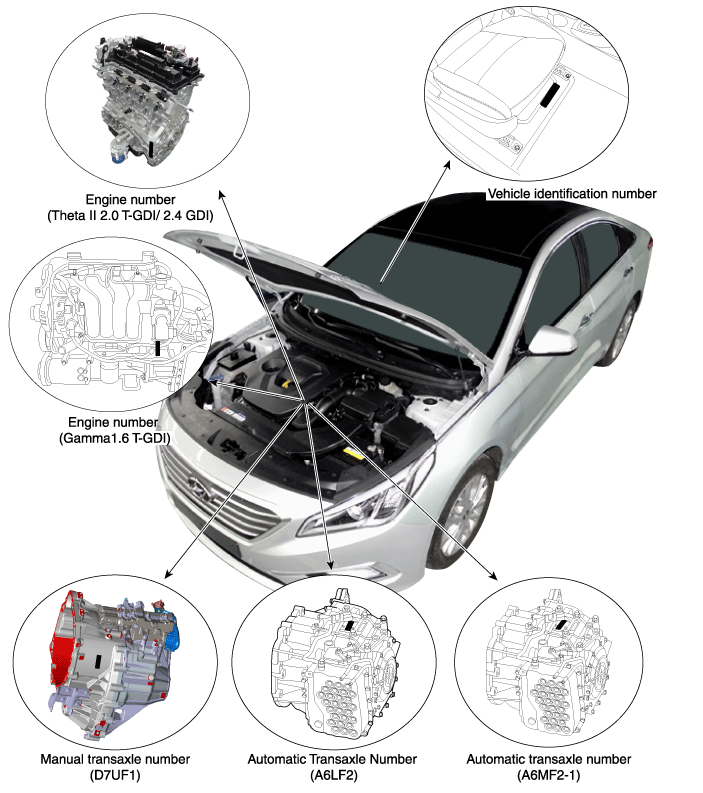 Identification Number Description
Vehicle Identification Number

1.

World Manufacturer Identifier (WMI)

- 5NP : Passenger vehicle

- 5NM : MPV (Multipurpose Passenger Vehicle) / SUV (Sports Utility Vehicle) / RV (Recreational Vehicle)
| | |
| --- | --- |
| 2. | |
3.

- 2 : Middle-Low grade (GL)

- 3 : Middle grade (GLS, JSL, TAX)

- 4 : Middle-High grade (HGS)
| | |
| --- | --- |
| 4. | Body/Cabin type, Gross Vehicle Weight Rating |
5.

Restraint system, Brake system

Code




Seat belt




Front air bag




Knee air bag




Side air bag




Curtain air bag




Driver's




Passenger's




Driver's




Passenger's




1st row




2nd row




3rd row




1st row




2nd row




3rd row




A




o




o




o




x




x




o




x




x




o




o




x




B




o




o




o




x




x




x




x




x




x




x




x




C




o




o




o




x




x




o




x




x




o




o




o




D




o




o




o




x




x




o




o




x




o




o




x




E




o




o




x




x




x




x




x




x




x




x




x




F




o




o




o




x




x




o




x




x




x




x




x




N




o




x




x




x




x




x




x




x




x




x




x






6.

- A : Gasoline engine 1.6 (Gamma 1.6 T- GDI)

- B : Gasoline engine 2.0 (Theta 2.0 T-GDI)

- F : Gasoline engine 2.4 (Theta II 2.4 GDI)
| | |
| --- | --- |
| 7. | Check digit or Driver's side & Transmission |
| | |
| --- | --- |
| 8. | - E : 2014, F : 2015, G : 2016, H : 2017... |
| | |
| --- | --- |
| 9. | |
| | |
| --- | --- |
| 10. | Vehicle production sequence number |
Paint Code
| | |
| --- | --- |
| Code | Color |
| RER | Remington red |
| V7S | Polished metal |
| Y7S | Platinum sliver |
| NN7 | Dark hose |
| NV7 | Night sky |
| PA7 | Phoenix orange |
| RV7 | Russian blue |
| TB7 | Phantom blue |
| WN7 | Cost blue |
| WW7 | Ice white |
Engine Number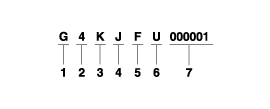 3 : Engine development order
| | |
| --- | --- |
| - | J : 1591 cc (Gamma 1.6 T-GDI) |
| | |
| --- | --- |
| - | J : 2359 cc (Theta 2.4 GDI) |
| | |
| --- | --- |
| - | H : 1998 cc (Theta 2.0 T-GDI) |
| | |
| --- | --- |
| - | E : 2014, F : 2015, G : 2016, H : 2017... |
7. Engine production sequence number
Transaxle Number
Automatic (A6LF2)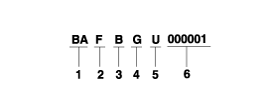 | | |
| --- | --- |
| 1. | - BA : A6LF2 (Theta II 2.0 T-GDI) |
| | |
| --- | --- |
| 2. | - E : 2014, F : 2015, G : 2016, H : 2017... |
| | |
| --- | --- |
| 3. | - B : 2.885 (A6LF2 - Theta II 2.0 T-GDI) |
| | |
| --- | --- |
| 4. | |
| | |
| --- | --- |
| 5. | |
| | |
| --- | --- |
| 6. | Transaxle production sequence number |
Automatic (A6MF2-1)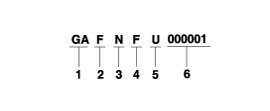 | | |
| --- | --- |
| 1. | - GA : A6MF2-1 (Theta II 2.4 GDI) |
| | |
| --- | --- |
| 2. | - E : 2014, F : 2015, G : 2016, H : 2017... |
| | |
| --- | --- |
| 3. | - N : 2.885 (Theta II 2.4 GDI) |
| | |
| --- | --- |
| 4. | |
| | |
| --- | --- |
| 5. | |
| | |
| --- | --- |
| 6. | Transaxle production sequence number |
Manual (D7UF1)
| | |
| --- | --- |
| 1. | |
| | |
| --- | --- |
| 2. | - C : 2012, D : 2013, E : 2014, F : 2015... |
| | |
| --- | --- |
| 3. | |
| | |
| --- | --- |
| 4. | |
| | |
| --- | --- |
| 5. | Transaxle production sequence number |
General Information Proper service methods and repair procedures are essential for safe, reliable operation of all motor vehicles as well as personal safety of the operator. The service procedu ...
General Information 1. Radiator cap caution2. Fan caution3. Battery caution Attention SRS VehicleThis car is equipped with a supplemental restraint system. To provide continedreliablity, ...
Other information:
Hyundai Sonata LF 2014-2019 Owners Manual: Front seat head restraints
The vehicle's front and passenger's seats are equipped with adjustable head restraints for the passengers safety and comfort. Adjusting the height up and down To raise the head restraint: 1. Pull it up to the desired position (1). To lower the head restraint: 1. Push and hold the release butt ...
Hyundai Sonata LF 2014-2019 Owners Manual: Interior Light Bulb Replacement
Map lamp and Room lamp If the LED lamp does not operate, have the vehicle checked by an authorized HYUNDAI dealer. Map lamp, Room lamp, Vanity mirror lamp and Luggage room lamp 1. Using a flat-head screwdriver, gently pry the lens from the interior light housing. 2. Remove the bulb by pulling it ...