Hyundai Sonata: Dual Clutch Transmission Control System / Description and Operation
The Dual Clutch Transmission (DCT) control system measures required data to identify the state of the control target and computes the appropriate compensation value if adjustment is necessary. The actuator is controlled according to the computed compensation value to obtain desired output.
If transmission or driving-performance-related failure is detected, first perform self-diagnosis and basic transmission inspection (oil check).
Then use the diagnostic tool to inspect the transmission control system components.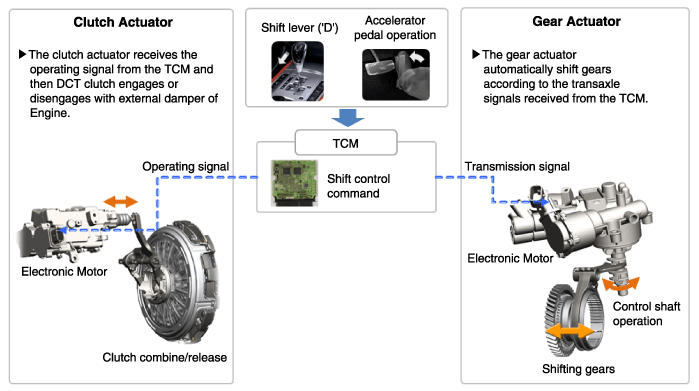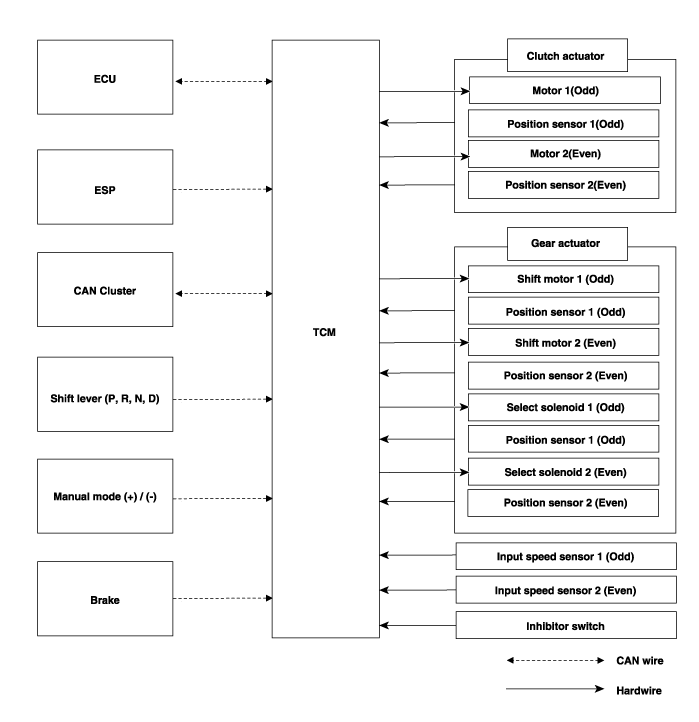 Components 1. DCT (Dual Clutch Transmission)2. Shift lever3. Data Link Connector (DLC) [16-Pin] ...
Other information:
Hyundai Sonata LF 2014-2019 Service Manual: Troubleshooting
Troubleshooting Trouble SymptomProbable causeRemedyVehicle pulls to one sideScoring of driveshaft ball jointReplaceWear, rattle or scoring of wheel bearingReplaceDefective front suspension and steeringAdjustment or ReplaceVibrationWear, damage or bending of driveshaftReplaceDriveshaft rattle an ...
Hyundai Sonata LF 2014-2019 Service Manual: Specifications
Specifications [Memory Power Seat Unit ] ItemSpecificationsRated voltageDC 12VOperating VoltageDC 9V ~ 16VOperating Temperature Range-30°C ~ 75°C Dark currentMax. 1? [Memory Power Seat Switch ] ItemSpecificationsRated voltageDC 5VType Soft Feeling Tact typeOperating Temperature Range-30°C ...
© 2018-2022 www.hsonatalf.org