Hyundai Sonata: Dual Clutch Transmission Control System / Description and Operation
The Dual Clutch Transmission (DCT) control system measures required data to identify the state of the control target and computes the appropriate compensation value if adjustment is necessary. The actuator is controlled according to the computed compensation value to obtain desired output.
If transmission or driving-performance-related failure is detected, first perform self-diagnosis and basic transmission inspection (oil check).
Then use the diagnostic tool to inspect the transmission control system components.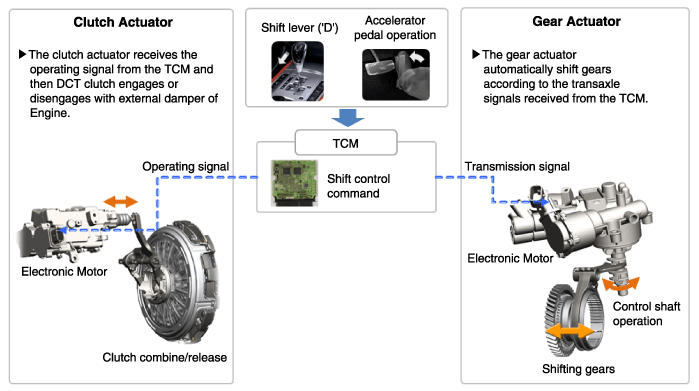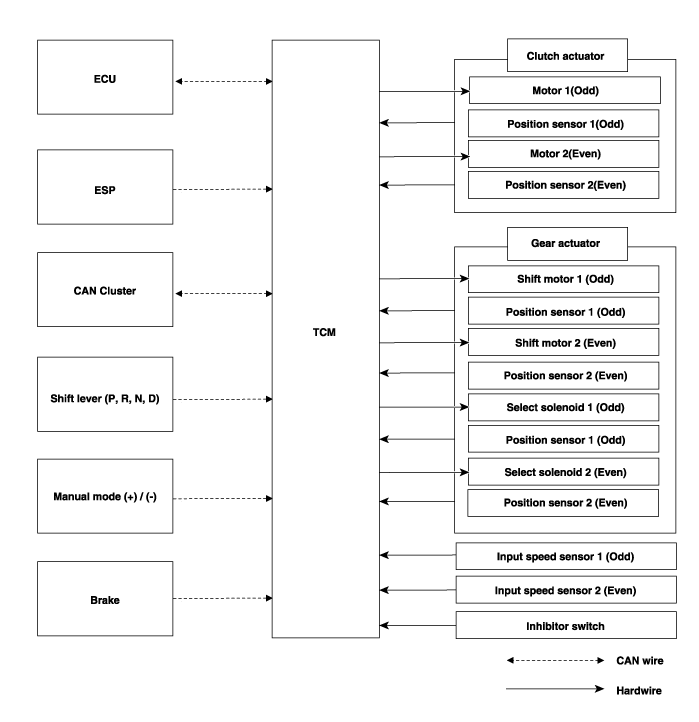 Components 1. DCT (Dual Clutch Transmission)2. Shift lever3. Data Link Connector (DLC) [16-Pin] ...
Other information:
Hyundai Sonata LF 2014-2019 Owners Manual: ESC operation
ESC ON condition When the ignition switch is in the ON position, the ESC and the ESC OFF indicator lights illuminate for approximately three seconds and goes off, then the ESC is turned on. When operating When the ESC is in operation, the ESC indicator light blinks: When you apply your brakes u ...
Hyundai Sonata LF 2014-2019 Service Manual: Troubleshooting
Trouble Symptom Charts Trouble Symptom 1 Trouble Symptom 2 Trouble symptomProbable causeRemedyThe set vehicle speed varies greatly upward or downward"Surging" (repeated alternating acceleration and deceleration) occurs after settingMalfunction of the vehicle speed sensor circuitRepair the ...
© 2018-2022 www.hsonatalf.org