Hyundai Sonata: Driver attention alert system (DAA) / System malfunction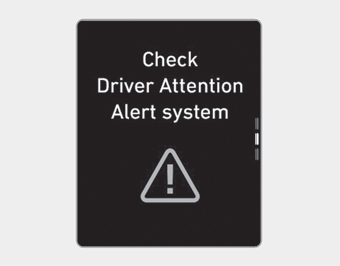 When the "Check Driver Attention Alert" warning message appears, the system is not working properly. In this case, we recommend you to have the vehicle inspected by an authorized HYUNDAI dealer.
WARNING
The Driver Attention Alert system is not a substitute for safe driving practices, but a convenience function only. It is the responsibility of the driver to always drive cautiously to prevent unexpected and sudden situations from occurring. Pay attention to the road conditions at all times.
It may suggest a break according to the driver's driving pattern or habits even if the driver doesn't feel fatigued.
The driver, who feels fatigued, should take a break, even though there is no break suggestion by the Driver Attention Alert system.
NOTICE
The Driver Attention Alert system utilizes the camera sensor on the front windshield for its operation.
To keep the camera sensor in the best condition, you should observe the followings:
Do not disassemble camera temporarily for tinted window or attaching any types of coatings and accessories. If you disassemble a camera and assemble it again, take your vehicle to an authorized HYUNDAI dealer and have the system checked for a calibration.
Do not locate any reflective objects (i.e. white paper, mirror) over the dashboard. Any light reflection may cause a mal-function of the Driver Attention Alert (DAA) system.
Pay extreme caution to keep the camera sensor out of water.
Do not arbitrarily disassemble the camera assembly, nor apply any impact on the camera assembly.
Playing the vehicle audio system at high volume may offset the Driver Attention Alert system warning sounds.
CAUTION
The Driver Attention Alert system may not properly operate with limited alerting in the following situations:
Not properly recognize lane (See the LKAS)
Rough or intentionally evasive driving
Large tire pressure deviation, uneven wear, poor wheel alignment, etc.
Severe winding road
Uneven road surface condition
Windy road
The vehicle drives through a windy area.
The vehicle is controlled by the following driving assist systems:
- Lane Keeping Assist System (LKAS)
- Autonomous Emergency Braking (AEB) System
- Smart Cruise Control (SCC) System
© 2018-2023 www.hsonatalf.org